Spring is in full bloom, and what better way to celebrate the season than by showcasing your style in a magical outfit?
Become a ZARA Idol🌸 Winner of 50 ZEMs 💎
Let your spring shine in a mystical outfit with flowers and denim ✨
Take a photo booth with the idol fairy and win 📸 ZEMs and Coins!

👉 https://t.co/eM6YtXCQpC @ZARA #ZEPETO #ZARA pic.twitter.com/SJa62PGhGz

— ZEPETO (@zepeto_official) May 10, 2023
ZEPETO, in collaboration with ZARA, brings you an exciting opportunity to become a fashion idol with the Fairy Magic Idols Collection. Immerse yourself in the enchanting world of ZEPETO, don your floral and denim ensemble, and get ready to shine. Not only will you express your fashion prowess, but you'll also stand a chance to win amazing rewards, including ZEMs and coins. Let's dive into the details of this exciting event!
Click here to learn more!
How To Participate?
Step into the realm of ZEPETO's Fairy Magic Idols Collection and explore the stunning new booth for magical inspiration. The ZARA collection will leave you captivated and brimming with creative ideas.
Head over to the Fairy Magic Idols booth, where the magic awaits. Immerse yourself in the whimsical atmosphere and feel the inspiration come alive.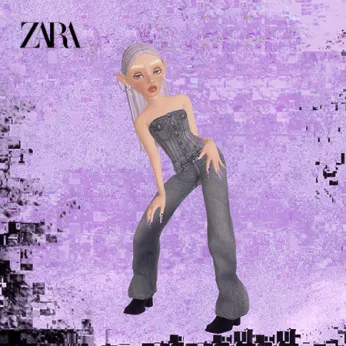 Fairy Magic Idols booth on ZEPETO
It's time to channel your inner fashion idol and capture your Fairy Magic moment. Take a captivating photo that showcases your unique style, the ZARA collection, and the enchanting ambiance of the booth.
Share your masterpiece with the ZEPETO community by uploading it to your feed. Make sure to include the hashtags #ZaraxZEPETO and #FairyMagicIdols to ensure your entry is counted.
Tips to Increase Your Chances:
To maximize your chances of winning, don't limit yourself to just ZEPETO. Share your Fairy Magic photo on your other social media accounts, spreading the joy and beauty of your creation. Each share will elevate your chances of claiming the coveted prizes.
Event Period:
Mark your calendars and set your reminders. The Fairy Magic Idols event will take place from May 10 (Wednesday) to May 17 (Wednesday) [UTC+0]. Don't miss out on this limited-time opportunity to shine!
Rewards:
The stakes are high, and the rewards are tempting. The event boasts grand prizes for three lucky winners: an impressive 50 ZEMs, ZEPETO's coveted currency that opens doors to exclusive features and items.
But that's not all! Fifteen finalists will also be chosen and awarded 20,000 coins each, giving them the means to further enhance their ZEPETO experience.
Winner Announcement:
The moment of truth arrives on May 24 (Wednesday) [UTC+0]. The winners of this illustrious event will be announced on this date. Keep an eye on your ZEPETO messages as the lucky winners will be contacted separately with the good news.
Get ready to unleash your inner ZARA idol and make a fashion statement like no other in ZEPETO. With the Fairy Magic Idols event, you have the opportunity to embrace the magic of spring, express your unique style, and win exciting prizes.
Don't miss your chance to shine brightly and captivate the ZEPETO community with your fashion prowess. May the spring enchantment guide you towards victory!